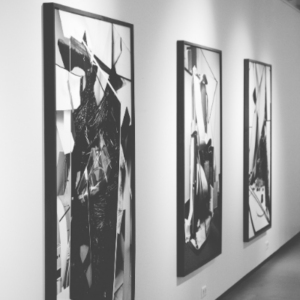 Choosing the right frame for your artwork is almost an art form in itself.
We all know presentation is key. But when it comes to artwork, choosing the best frame (or whether to even frame at all) can really change the impact of the piece.
So, how to you choose the right frame?
Ultimately, it's a personal choice. While aesthetics are definitely important, you and/or your customers have to be happy with it at the end of the day. So, here are few additional things to consider:
Style and material
Colour
Environment
Style and material
There are a number of ways to frame artwork and a lot can depend on whether it's an original artwork or a print. And also, the style of the art itself.
Among the different methods of framing, some artists prefer to 'mount' or use a 'mat' when framing (sometimes more common with original artworks than prints).
This essentially means using a mat which provides a small gap between the artwork or print, and the glass of the frame. It allows the artwork to breathe and helps prevent mould forming which can help preserve an original piece of art over time.
Framers might recommend this style if the artwork is of delicate nature, like pastels or charcoal.
Aesthetically speaking, it's not everyone's cup of tea, and some circles may say it was more popular in the past than at present. But each to their own. Again, it's a personal choice.
Another option is 'dry mounting'.  With this method, the artwork is mounted or glued to a backing board. Again, some will say this is not recommended for archival/ fine art prints though, as the actual print is glued to the backing board.
However, it's quite a common approach for framing fine art prints as it prevents them from rippling/warping under the frame over time. And professional framers will still use the best quality materials to extend the life of the framed print.
One more popular option we see a lot is box frames. The benefit of these frames is, once again, the artwork is separated from the glass. In addition, this extra space gives more depth when viewing the artwork which can really enhance things.
Colour
The perfect frame should complement the artwork. You don't want the frame to draw attention away from the art itself.
Aim for some contrast between the print and the frame. For example, a dark painting will often be enhanced by a lighter coloured frame and vice versa.
For photographs, the dominant colours in the print should match the frame in order for the photo to stand out. Black and white prints should be framed in black and white frames. 
Environment
In addition to being aesthetically pleasing, framing also serves to protect and extend the life of the artwork.
Humidity, light and hot/cold climates can all effect the life of your artwork or print.
Even the type of glass used in the frame can play a role.  For example, certain types of glass have a UV filter which will protect against fading and some climate conditions.
We could go into more granular detail on the different types of glass on offer, but if you choose to go to a professional framer, all of these things will be discussed.
There are even other bits and pieces they can do to control things like humidity.
So, depending on costs and quality, and what you plan to do with the prints, it could be worth exploring professional framing options.
Pre-made/Standard frames
The more affordable option.
There are a number of retail outlets and even framers that provide standard, ready-made frames.
If you do decide to get a pre-made frame, just make sure it's made with archival material. Especially if you've gone to the trouble and cost of getting a 'fine art print'. It won't last a lifetime if its housed in a frame made of substandard material.
Canvas stretching
This is an alternative option to printing on fine art paper.
When printing to canvas, the simplest option is to have the artwork stretched over a wooden frame, and secured at the back.
This does require a little forward thinking before printing, as you'll need to factor in things like not having a full bleed. Perhaps even printing to a larger sized canvas.
So much to consider, we know. This is by no means a comprehensive guide to framing, it's more an overview to provide insight into some of the different options available to you.
Helpful links:
Edition printing – sizes, numbering and other considerations
What kind of art sells most? And why you should take note.